Spook-Easy
What we do is gather everyone in a common area and eat a meal together. Next, we do an entire grounding clearing and opening meditation with drums and singing bowls. Then, I teach the whole group how to connect to spirit through different exercises. It's very interactive. Then, we investigate by splitting into groups with dowsing and equipment. At the end of the night we come together and bring together our evidence and converse. At the end, we do a house blessing and bring the house and your family to peace with a smudging. We start in one room and then branch out through the house to investigate. We promise you, all people who attend are truly invested in learning and a very respectful. These are genuine people who really just want to learn how to connect and help. It always ends up being an amazing group of individuals.
We do the house blessing with smudging after because we are connecting with spirit and opening up energy. It's a way to close that for you as we bring some healing.
EVENT: October 5, 2019, 6pm-11:59pm **FULL**
*Limited to 12 guests
This unique gathering is intended to not only assist a family seeking answers, but provide a learning environment. The family is hosting Pizza with desserts and snacks later in the evening.
***THIS HOME WAS JUST FILMED with a major television network**
* LOCATED IN WORCESTER COUNTY, MA
We will start at 6pm with conversation and good food. We will follow with a circle gathering of activities to expand our psychic abilities lead by Brandie Wells, Compassionate Clairvoyant. Then, we will go over paranormal equipment and collaborate on investigating the location.
Our intention is to understand the current issues being experienced in the home. We will work in the highest good to capture evidence, connect to the spirits within and bring the space to peace for the family.
The location is undisclosed, but will be revealed after all guests have purchased tickets.
Proceeds benefit the renovations of this historic location. 60 minutes from Keene, NH.
Limited to 12 guests. $65.00 *FULL
Haunts & History of Keene Walking Tours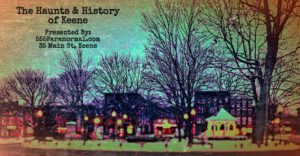 Keene Haunted History Walking Tours
Bring Your Flashlights as we walk the historic route of haunts and history in downtown Keene, NH!
This walking tour is coordinated by Brandie Wells, Compassionate Clairvoyant.
A fascinating itinerary will be expressed on this walking tour!
We will be meeting at the location of Keene Intuition & The 555; Paranormal Productions at 35 Main St, Keene NH.
We will be making several stops, going into buildings and even using metaphysical, paranormal & science based equipment to attempt connections with the spirit realm.
*Only $25 per person. All ages welcome, but recommended by 14 + due to content. Limited to 25 tickets.
Stay tuned for more information!
*YOU WILL BE PLACED ON A GUEST LIST. No physical tickets. ***CHECK YOUR PAYPAL EMAIL AFTER ORDER***
*NO REFUNDS
*Non-Transferable
*Rain or shine
Meet at Soul Emporium Keene
35 Main St, Keene
Itinerary:
6:30 Meet at Soul Emporium
6:45 Investigate 35 Main St
7:15 walk
7:30 EF Lane/Marriot tour and Investigation
8:15 walk
8:30pm Optional Margaritas Restaurant for appetizers, drinks and socializing!
Have a question?
Don't miss this Day of the Dead Psychic Weekend with clairvoyant Brandie Wells!
The package includes:
Entry to the psychic vendor show on Saturday, 10am to 3pm
Overnight accommodation
Loved one frame decorating
VIP dinner and spirit circle
Nighttime paranormal investigation of the historic Wolfeboro Inn
This will book up fast!
There are a limited number of overnight packages available. Book by phone at 603-569-3016.